RBS
LIGA DOS FANÁTICOS (2013)

RBS Liga dos Fanáticos was a project I directed back in the first months of 2013 at
Santa Transmedia
and consisted of a 40" spot and lots of print materials about the upcoming (at the time) coverage of FIFA's World Cup by a local media giant.

Even though cinematic 3D is not much my 'thing', this was a very exciting project for me as the client wanted an epic movie atmosphere, which created an opportunity to put in practice those fun hollywood-ish shots that you'll never be able to accomplish otherwise.
The agency was kind enough to let me freely storyboard the whole thing and I couldn't help myself pulling a full 3D animatic out with my scarce Maya skills, which was probably the most fun I had on the whole project. 
I got to experiment a lot with camera movements and editing, and we ended up staying pretty much true to that animatic through the whole process, even my original cameras made their way to the final renders.


This was the first visual exploration on the project, done by me with some great help from
Rafael Z. Chies
. I was very fond of the wood layering on the cliffs but ultimately the client went for a more realistic approach with dirt and grass.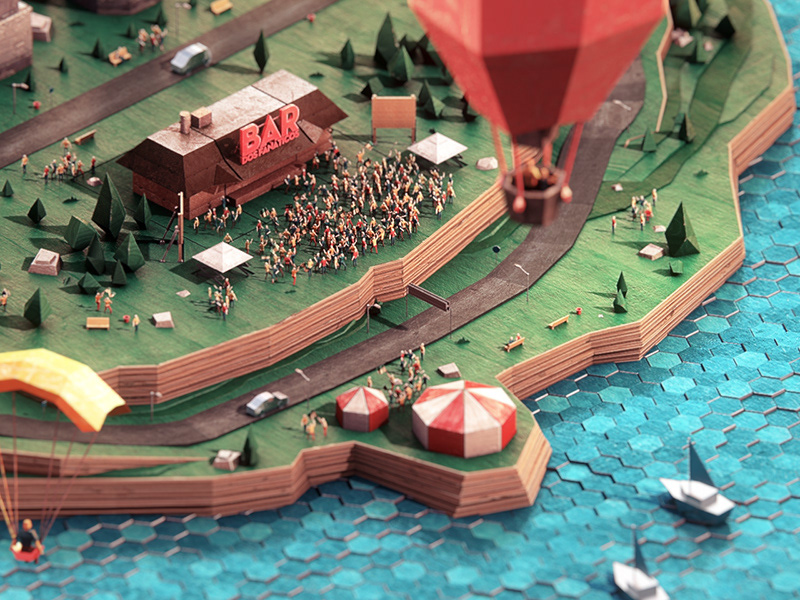 Later on I've teamed up with
Eric Pautz
on the art direction so he could push the visuals further while I was buried deep in spreadsheets. He took care of the characters and the color palette, setting up an amazing mood for each shot. Below are some cool images made by him.

Due to time constrains and the perhaps terrifying fact we were a 6 person team on this project, we outsourced the design, modelling, texturing and animation of the rising buildings and also the crowd animation with some nice local fellows while the rest of us worked on assembling everything, animating, shading, lighting, rendering in-house (which is not fun at all), compositing and also working on the print pieces.
All the shots were composited by myself – along a series of never ending days – and
Rafael Z. Chies
lit and shade all of the scenes, which was also insane and thanks to his skills everything came out looking real nice.

Full credits:
Client: Grupo RBS
Agency: DM9Sul
Production Company: Santa Transmedia Productions
Direction: Thiago Steka
Art Direction: Thiago Steka / Eric Pautz
Lead CGI Artist: Rafael Z. Chies
Technical Director: Marcelo (Bort) Bortolini
Design: Eric Pautz, Tiago Oliveira (Oliven Studio), Tiago Calliari
CGI Artists: Rafael Z. Chies, Tiago Oliveira (Oliven Studio), Douglas Figueira, Funn Digital, Mica Cruz Studio,  Ricardo Drehmer, Cristian Rocha
Character Animation/Rigging: Ronaldo de Azevedo
Animation: Lucas Peres, Ronaldo de Azevedo, Thiago Steka
Crowd Animation: Hype Studio
Lighting/Shading/Rendering: Rafael Z. Chies
Compositing: Thiago Steka
Editing: Thiago Steka
Audio: B Sound Thinking