I created and directed this ident for MTV/Viacom Brazil back in 2014 while working at Santa Transmedia.
The super cool folks at MTV issued me a challenge: to create a set of super-Brazilian IDs with high-impact visuals that explored FIFA's World Cup in an unbiased way, keeping it in line with their target audience.
The catch was that the World Cup was a major divisive event in Brazil: at the same time millions were celebrating the country being the world's football capital (a nation's favourite), millions of others were deeply upset about the government spending 12+ billion dollars on stadiums and its surroundings while the country lacked (and still does) investments on the most basic areas like education and health care.

As much as my inner teenage punk would like to throw 'the man' a punch, the network couldn't afford to pick a side and upset an unknown part of their viewers. I also didn't wanted to go full-generic and do just another sports themed reel, with the risk of glamourising the thing in the process. 
So my solution was to find a middle ground to work on: embrace reality. I chose to focus on the World Cup that was taking place outside of the stadiums and in the Brazilians' everyday lives. 
In practical terms, that meant a whole lot of excitement, agitation and tons of foreign attendees as well as our inefficiency in hosting, transporting and communicating with them. Oh, and football of course! I reduced the concept down to one word: 'confusão' – whose literal translation would be 'confusion' but it's more commonly used in Brazil to refer to an unorganised mix of things or beings, not necessarily with a negative connotation. Very appropriate ;)

My visual approach came out very naturally – almost unintentionally – still during the treatment phase. It was mainly inspired by the concept itself and everyday Brazilian stuff instead of actual graphic references, as I was trying hard not to make a copy of anything. 
Later on I've matured a bit on the first styleframe and as soon as I got the approval, professional rockstars Eric Pautz and João Lavieri took it to the next level in a bunch of cool boards filled with vivid colors and imperfections. As Brazilian as it gets.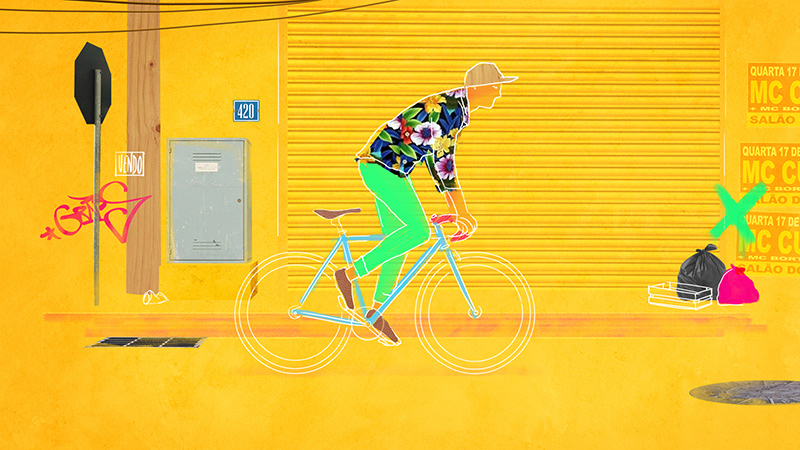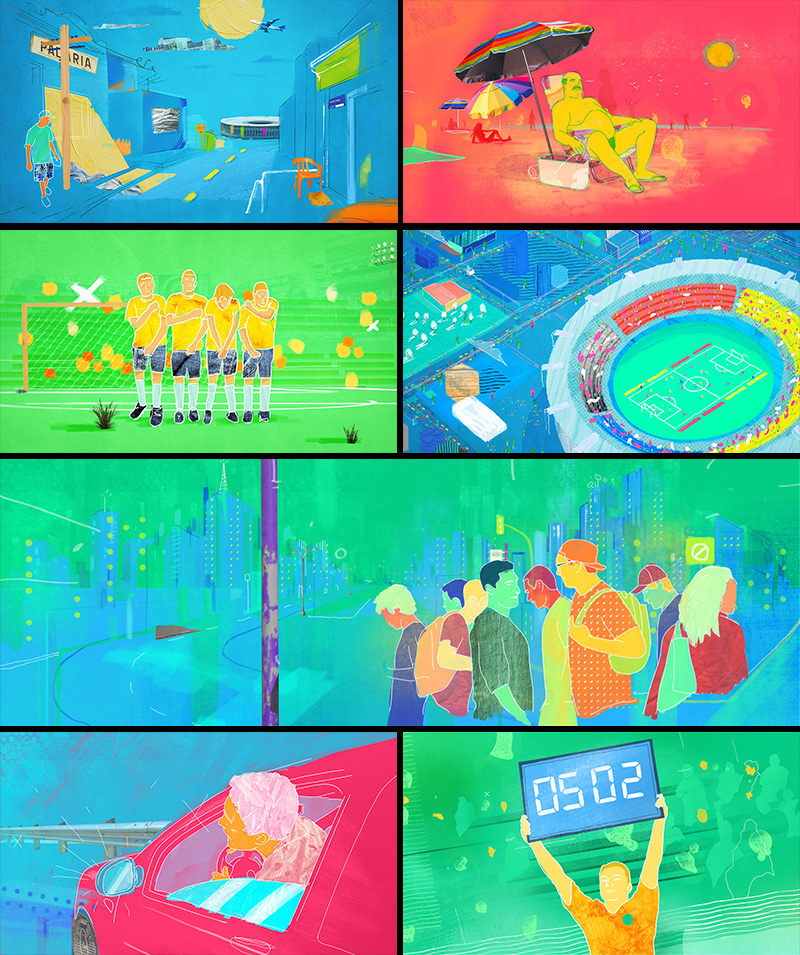 A combination of live-action, rotoscopy, cel animation and motion graphics was used to give the piece all the fluidity and visual clutter-ness the narrative demanded.
Almost all of the staff at Santa at that time got their faces in the film as I had shot the reference videos on the hallways and meeting rooms during a whole day that was insanely fun. Outlines and fill masks were later rotoscoped by different people to ensure they wouldn't match perfectly to give if an organic feel and a little bit of extra chaos.
This ID ended up winning several awards, including a
Silver
at
Global PromaxBDA 2015
.
Here you can read an interview I gave on the process to Creative Babble.

Full credits:
@ Viacom Brasil / MTV
Creative directors: Vinicius Prado, Edson Fukuda
@ Santa Transmedia
Director: Thiago Steka 
Client services: Laura Rocha 
Producer: Marcos Berghahn 
Art direction: Thiago Steka / Eric Pautz 
Design: Eric Pautz, João Lavieri, André Chaves, Thiago Steka 
Lead animator: Ricardo Drehmer 
Animation: Ricardo Drehmer, Leonel Zarpelon, Alejandro Martinez, Thiago Steka 
Rotoscopy (lines): Tiago Martins de Oliveira, Gustavo Encinas 
Rotoscopy (masks): Henrique Geremia Nievinski, João Franz 
Sound: Thiago Gautério 
Cast: Diogo Alves, Thiago Gautério, Guilherme Krolow, Guilherme Haupenthal, Ricardo Drehmer, Leonel Zarpelon, Alejandro Martinez, Marcos Berghahn, Amadeu Caringi, Alessandra Lewis, Renata Munaretto, Carlo Taffarel, Maurício de Oliveira, Rafael Chies, Sivo Greven, Raul Carrasco, André Chaves