IBRAVIN
Enjoy Delightfully (2013)

I directed this piece back in 2013 for Ibravin, a Brazilian wine association, while working at Santa Transmedia.
When Escala agency reached us they already had the script locked down as well as the idea of exploring it through fluid cel animation, which was very exciting for me back then as I was eager to try it out and no project had allowed me to try that before.

Escala's main goal was to give Brazilian wine a cheerful tone and, to do so, their story drew a series of comparisons between various international 'inventions' and their super fun Brazilian counterparts.
My approach was to reinforce that comparative and cyclical nature of the script by establishing two different visual structures that would get interleaved throughout the piece: the former being a dull, static and somewhat encyclopedic look to portray the original inventions and the latter a vivid dynamic composition that would comprise the Brazilian way.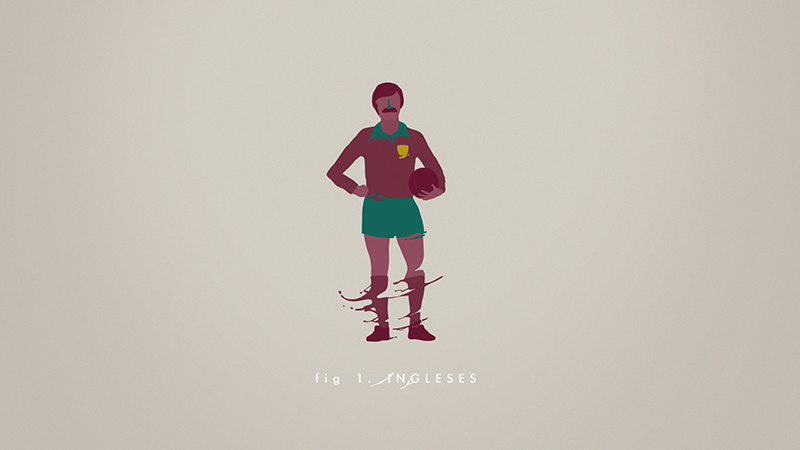 I took on the role of designing the first styleframes myself – one for each key moment of the video – then passed on the duties to
Eric Pautz
, who crafted all the remaining design work.

Nobody in our team mastered cel animation at that time and neither our budget nor timeframe allowed me to hire someone with those skills, so my solution was to use 3D and After Effects animation as a basis and paint it over in Flash (now Animate) to give it a cel look. Which turned out working pretty well.

Full credits:
Production Company: Santa Transmedia Productions
Director: Thiago Steka
Design: Eric Pautz, Guilherme Nerd
3D Animation: Gustavo Encinas, Ronaldo de Azevedo, Rafael Chies
Shader: Gustavo Encinas, Rafael Chies, Marcelo Bortolini
2D Animation: Guilherme Krolow, Thiago Steka, Ricardo Drehmer
Cell Animation: Guilherme Krolow, Thiago Steka, Ronaldo de Azevedo, Ricardo Drehmer, Tiago Oliveira